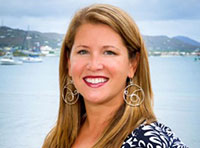 Valerie Geer
Valerie was born and raised in Pennsylvania and graduated from Lock Haven University with a degree in Recreation Therapy with a minor in psychology.
She worked in Richmond, Virginia for 10 years with patients ranging from infants to senior citizens providing recreation therapy in a variety of different settings.
She moved to St. Croix in 2011 began working as an ABA Therapist for Dr. Wagner. She now works as the Psychometrist, administering psychological/ neuropsycholgical testing in the office and assisting with the social skills groups.